Why book a car rental with CheapMauiCarRental.com?
Easy & Fast - Book a car in under 90 seconds
No credit card or booking fees - ever
Handy to view or cancel reservations
Unlimited miles and AC in every car
Special discounted prices available here
Whether your interest in Maui lies in snorkeling at Molokini, lounging on the sandy beaches of Kaanapali, or visiting the world's largest dormant volcano, Mt. Haleakalā, we know you'll want to book the lowest prices and save money on your car rental.

Cheap Maui Car Rental invites you to spend more at your destination and less on transportation. We have partnered with discounted companies A, B, C, D or E (Hertz, Avis, Dollar, Enterprise, Thrifty etc.) and others; negotiating with each of the agencies to offer you our "Lowest Rate" service. Unlike the big-box online travel agencies, we do not require payment ahead of time and you can cancel your reservation without being penalized. Special Deals are automatically added when appicable.
Recent customer comment



"Jim was amazing. With Kathleen's help they were able to get us the perfect vehicle for our wedding. Amazing customer service. We always have rented from Alamo and after Jims excellent service we will always continue. Lisa"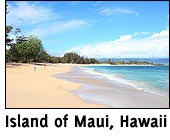 All rentals include free unlimited mileage. If you are Island Hopping you can book for multiple islands after renting your first vehicle.
CMCR conveniently offers the vehicle that best suits your travel needs at the lowest price available. And, by "convenient" we mean that our customers can secure a rental, complete with confirmation number, BEFORE they are required to provide any financial or personal information. Pay after you drop-off your rental car. Find our rental form here.
Maui! The Valley Isle--- during daylight hours you can clearly see the beautiful valleys carved into the island landscape from an airplane. From championship golf courses to historic Lahaina town, Maui is the quintessential Hawaiian experience.
The majority of Maui's population is found in the low-lying land near Kahului between the comparably dry slopes of Haleakala to the east and the lush mountain slopes to the west.